April - May 2018
The project for this year's main work involved the removal of the infamous station double-slip and its replacement...
There it sits, immediately below the platform in the centre of the photo. It has always been a nasty piece of work right from layout purchase. Now its time for it to go...
The track was pulled up, along with the feeder lines, and there it is - gone! Note the massive hole in the board for the original point motors.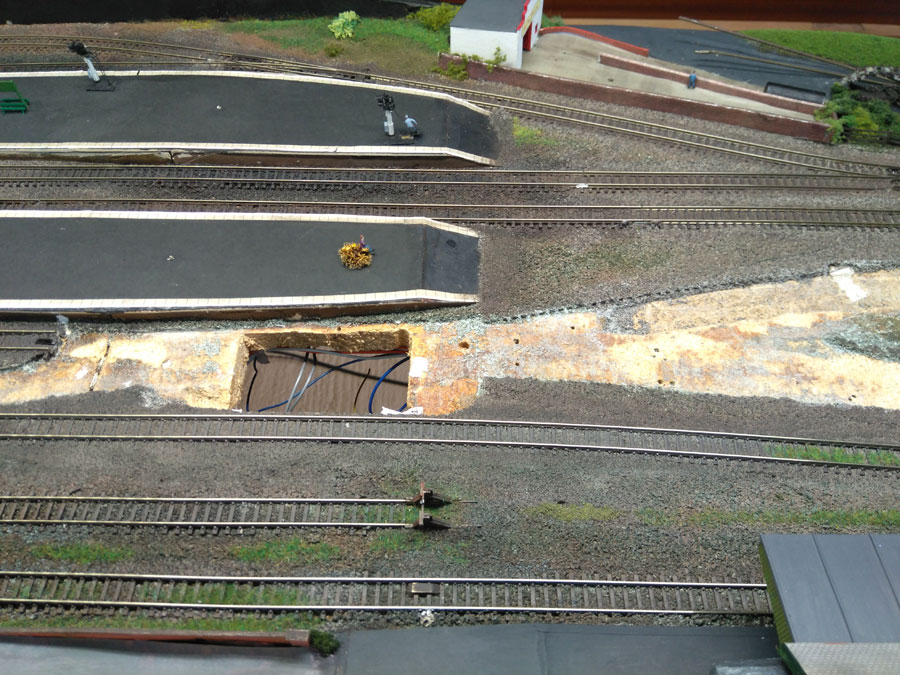 The hole needed to be plugged, so a piece of ply was cut to fit, pressed into place, and glued.
The new track was laid and was supported on pillars of hot-melt glue (you can just about see two of them under each of the points blades).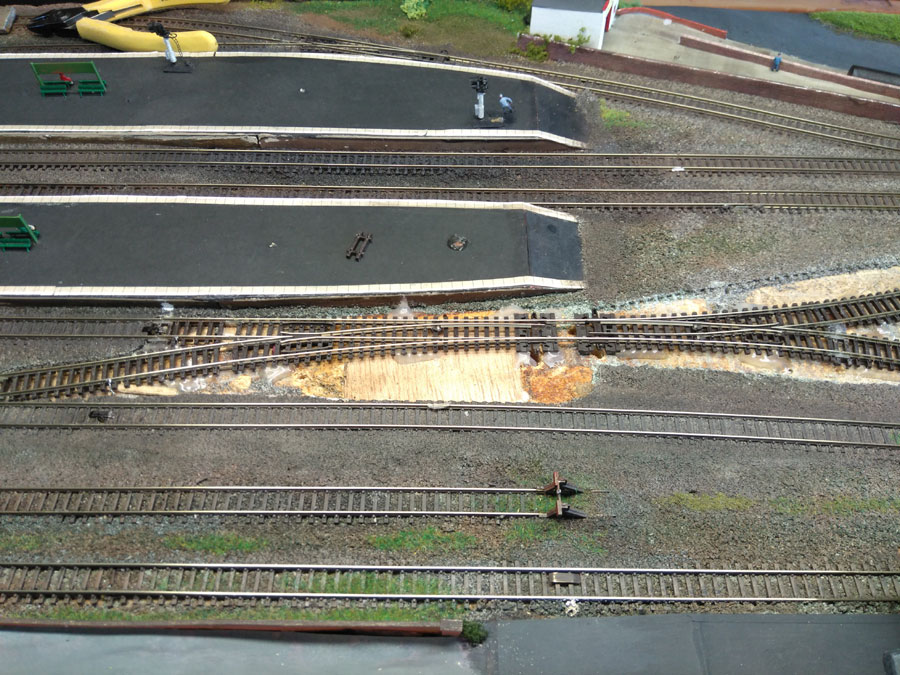 The hole was so deep, and even the in-fill was a little low, that ballasting would have to be done in two layers. The first was added to fix the track in place.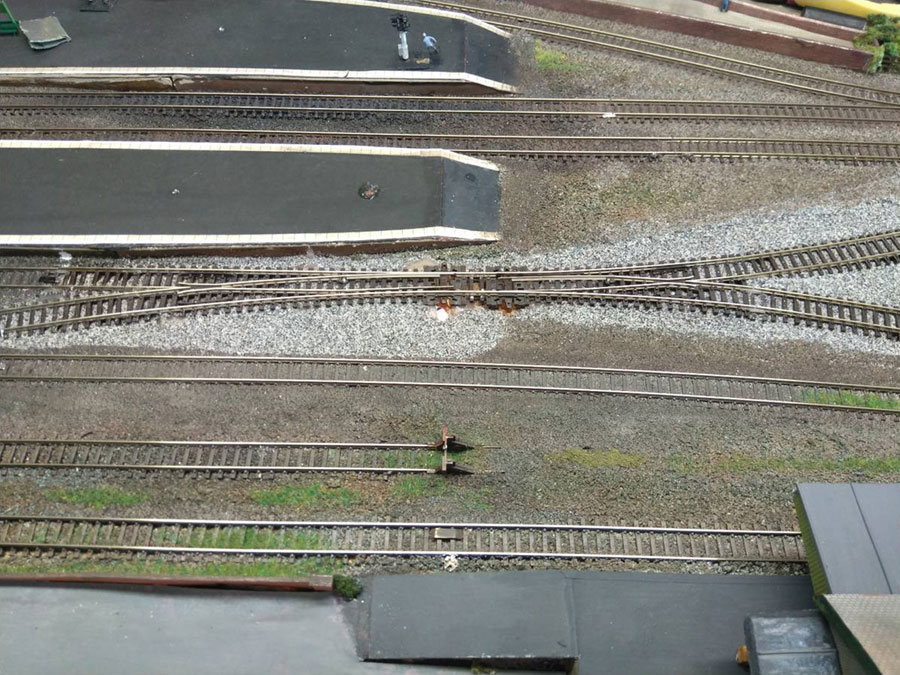 The second layer of ballast was laid and then the rail sides were painted to give them a used look, and the ballast was weathered to match the rest of the site. Job done. The first public test would some at the St Peter's show in Taunton on 19 May 2018 (see Events)...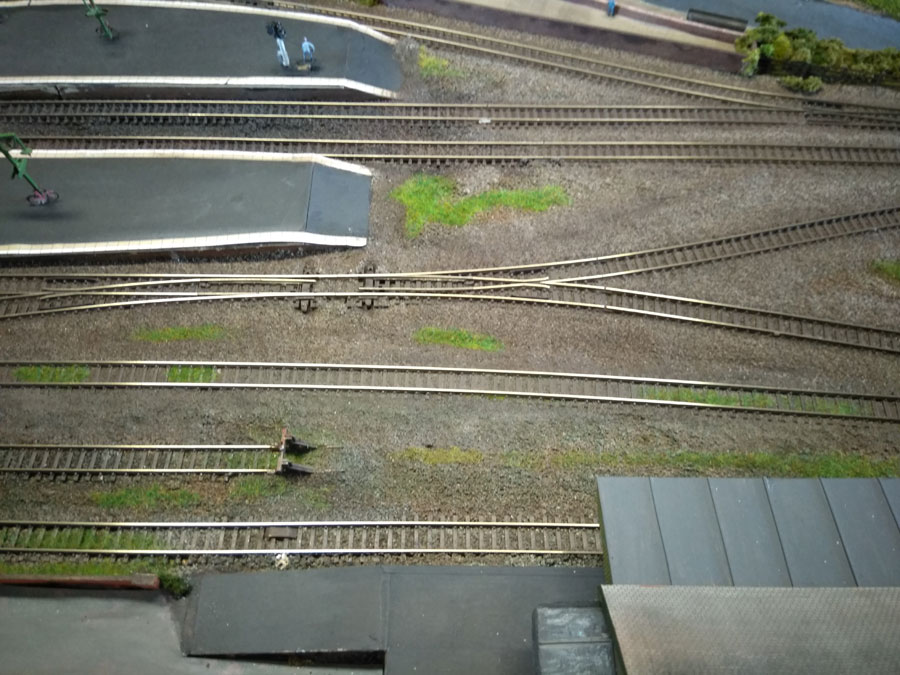 August 2018
The electrics on Bridgebury Gate still need updating and improving in places. One of those places is the fiddle yard. In preparation for the show at Bishops Lydeard, five point-motor control boards and one power supply control board were installed, but only for one end of the inside loop for now. This area could now work as a fiddle yard set of points with all of the frogs powered.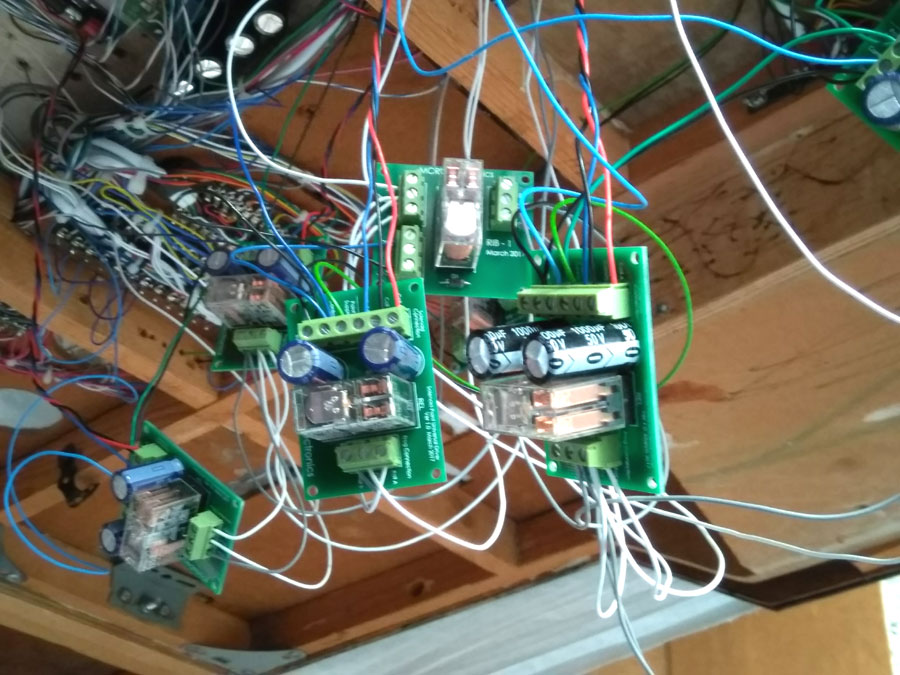 October 2018
The branch line has long been isolated from the mainline at the fiddle yard end. Now that's been fixed by connecting it directly to the anti-clockwise loop, producing this startling control panel display.
The revised control panel.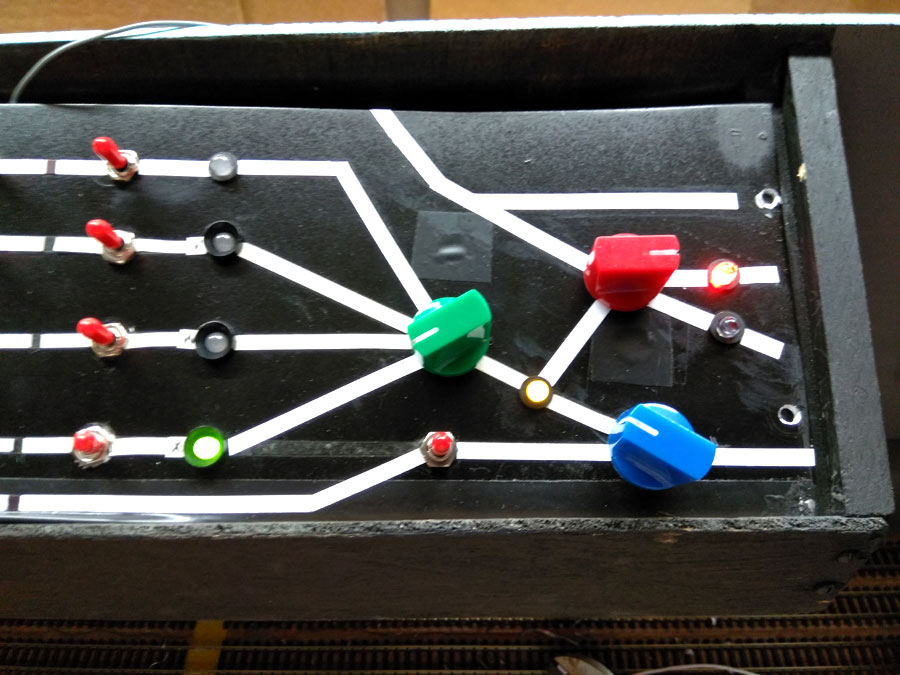 And the revised fiddle yard with the branch line connected to the anti-clockwise loop.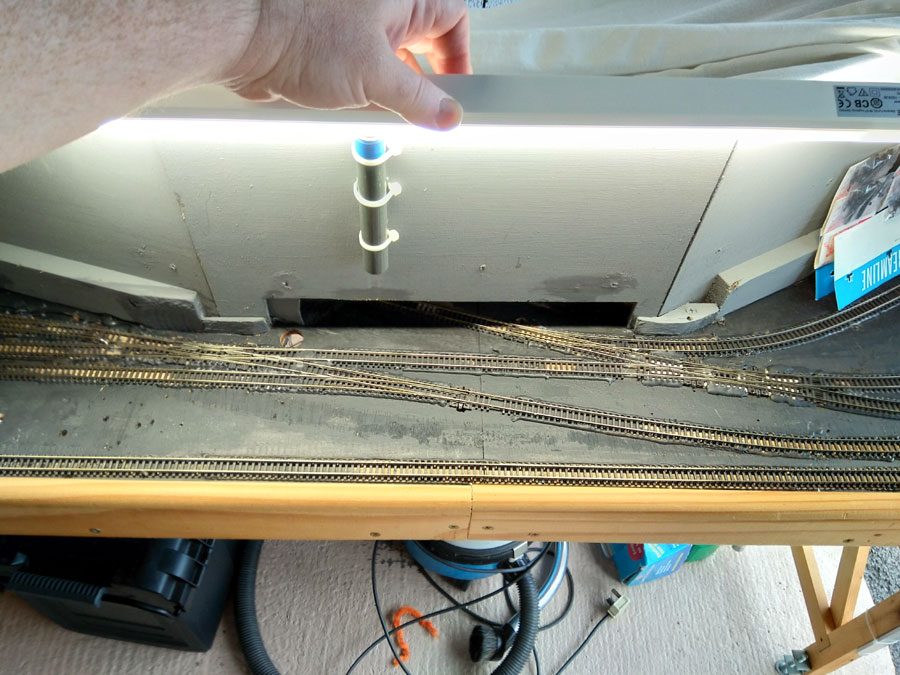 The branch line itself has suffered subsidence at the board join so it required repair. The affected area was excavated to find just a thin skin of plaster over polystyrene. The loose material was dug out and the area was filled with car body filler. Then the track was relaid and reballasted: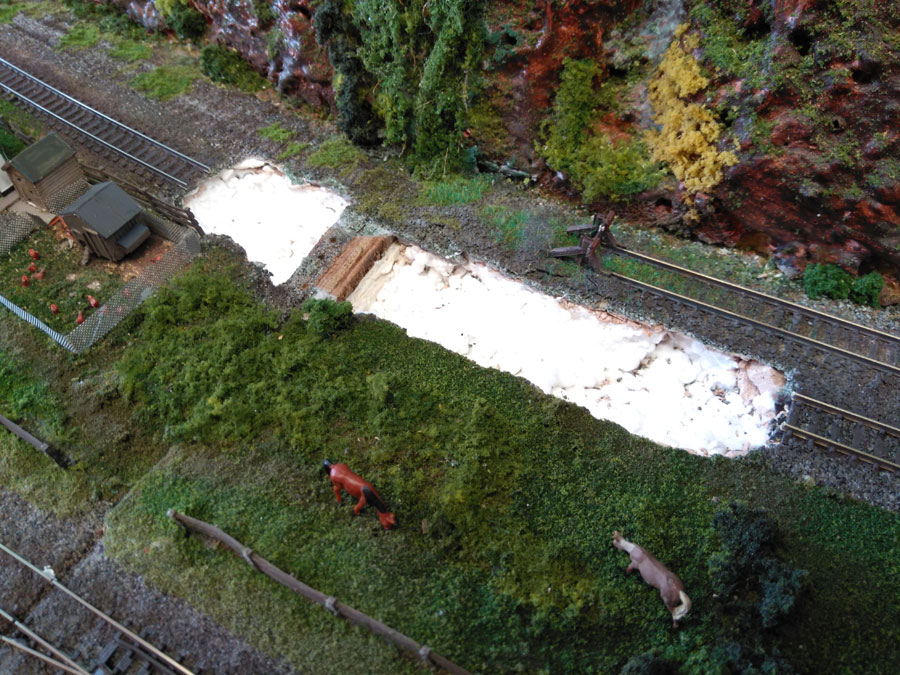 Then a trackbed surface was added (the grey mass), and the track was relaid on top of that.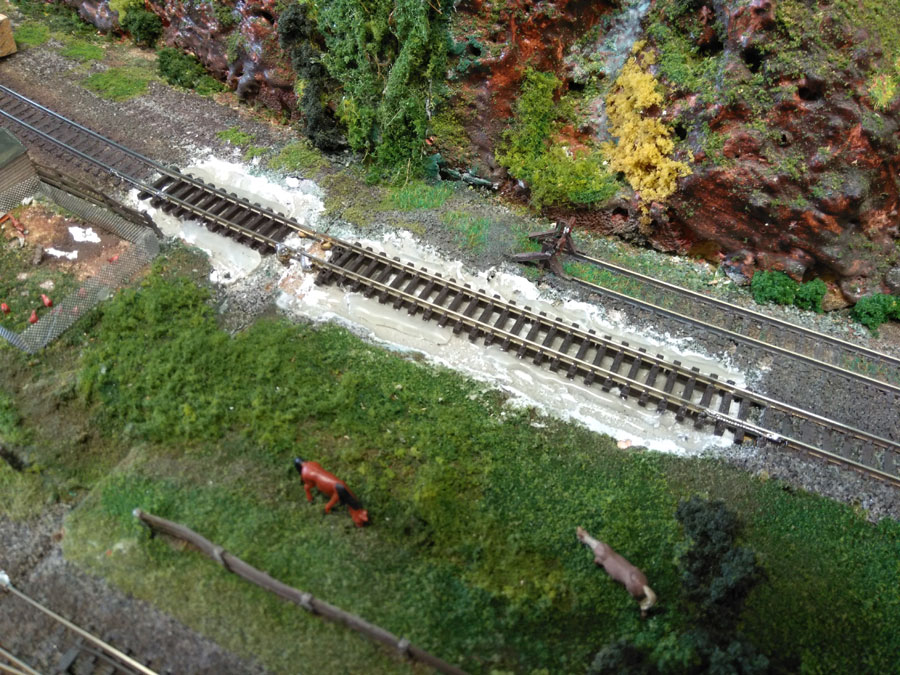 Ballasting and weathering means that it's pretty hard to spot the new section at all.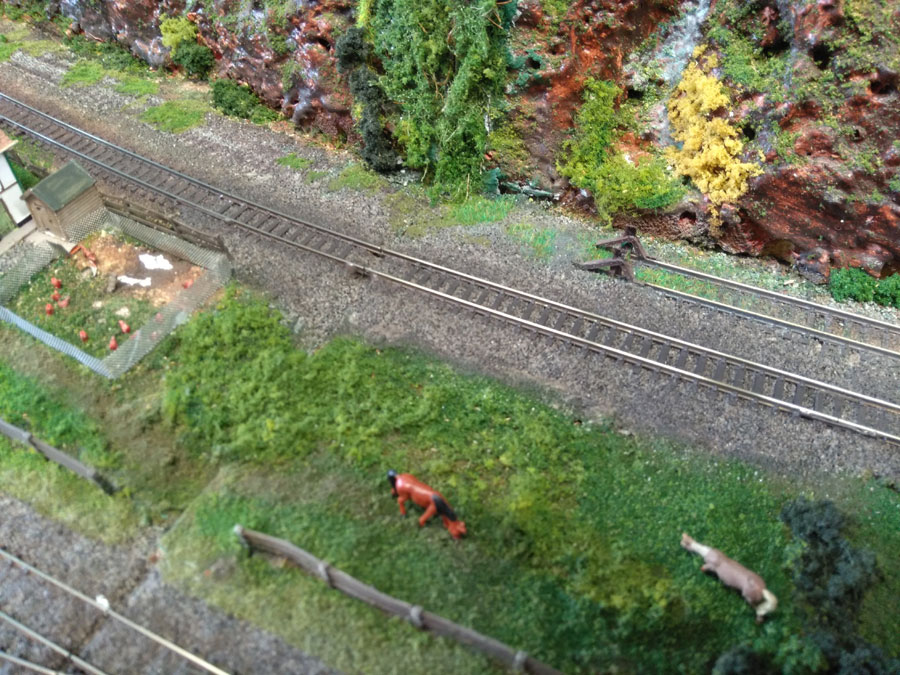 One final job in this session involved adding lighting for the operators at the back of the layout, for those exhibition halls that are just too dark for an operator's eyes to be able to cope across a long day of driving trains.